How Digital Locks Differ from Mechanical Ones
07/11/2015
Back To Blog
In the recent past, people could choose between latch door locksets and deadbolts. Now thanks to the advancement in technology, there are various other options. One of the primary choices that property owners have to make is between traditional mechanical locks and digital ones. Find out how the two compare to ensure that you will get exactly what you need and want.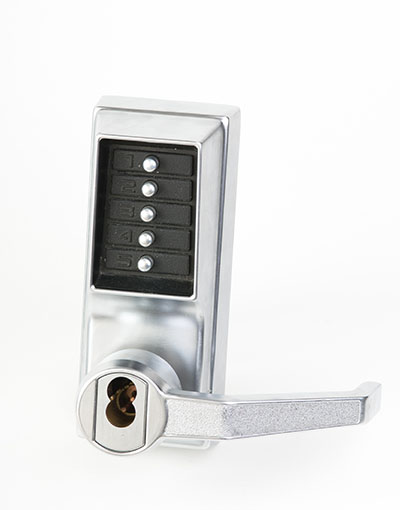 Technological and Operational Differences
When you insert the traditional key into a mechanical door lock, it goes inside a cylinder. This cylinder has special pins. They are usually five and less often six. When the correct key is inserted, its peaks and valleys move each pin at a set distance. This enables the turning of the cylinder with the key. When the cylinder turns, specially designed springs move the latch either forward into the hole of the strike plate or out of it depending on the direction of the turning. In this way, the door is locked or unlocked respectively.
Digital locks do not have keys and a mechanical cylinder. They use an actuator and an electric motor and a specific technology which plays the same role as a traditional key. There are several major technologies in this category. The most basic and widely used option is a keypad. You have to enter a combination in order to unlock the door. Less often the lockset is equipped with a receiver and the user carries a transmitter which works in the same way as the electronic unit of a transponder key. There are some devices which can be operated with the use of a smartphone app. The most advanced technology is the one for fingerprint recognition. You press your finger against a special pad and it scans your fingerprint. If it is recognized, you can get inside. In all cases, the locking is automatic.
When the correct code is entered or when fingerprints are recognized, the actuator sends an electrical impulse to the motor. The motor moves the bolt out of the hole in the strike plate and the door is unlocked. When the door is closed, the motor pushes the bolt back inside the hole. It is important to note that the digital device is typically connected to the electric grid of the building during the lock installation process. It is rare for it to operate on batteries alone. However, many digital locks have battery backup which works in case of power outage. Our experts in West University Place explain that the alternative backup option is the pairing of the electrically operated device with a mechanical cylinder, which is used with a physical key.
Finally, you should know that digital technology is used not only for security door locks in commercial buildings. Now digital devices are readily available to households as well.